**This Post is for Maryee. I never forgot that you asked me to post on Color.**
I have always loved color. I was a color wearer before going natural so I had to keep the color once I loc'd. I dyed my hair a week or two before getting Sisterlocked. I started off with Cherrywood (left). This is the color I was wearing before locs. The last color I got was Roasted Chestnut (right). Which toned my hair down a lot, but my ends have always remained lighter. I like the mixture of colors that are going on. The Cherrywood was more of a reddish and now it is more brown than the reddish-brown.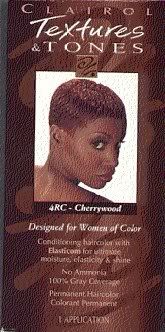 I waited about a year before coloring again. I retighten my locs first and about a week later, I go for my color. I noticed after coloring with the locs, it took more washing to get a clear rinse. I had a licensed cosmotologist color my hair. This is my former beautician who handled my color, relaxers, short hair cuts, weaves, and even a few press and curls at my attempts at going natural. But there are definitely disparities in her and natural hair care providers. That's a friend and I love her, but once going natural, you just find better products and ways to avoid damaging your hair.
After getting the color, I wash my hair for the next 3-4 days in a row to make sure that I am getting any excess dye that may still be there. The reason behind doing this is because after that first loc'd color session, there was still a lot of dye in my hair. I still do it out of habit now, Just to be safe.
After that first year, I now get my hair dyed every six months. I wash and condition my hair with the Sisterlock Reconstructor afterwards. I haven't had a problem with hardness of my hair. I haven't gotten into the essential oils, but want to try them out. I do have a mixture of oils that I purchased from the Beauty Supply Store. I have Hair Milk from
New Bein
that I use about once a month or two. I don't use a lot of products (in fear of build-up). But I do use them sometimes.
I have an inch of new growth. I will be due for my color in December or January. I think I will choose a lighter brown next time, maybe with a golden tint. We'll see.....